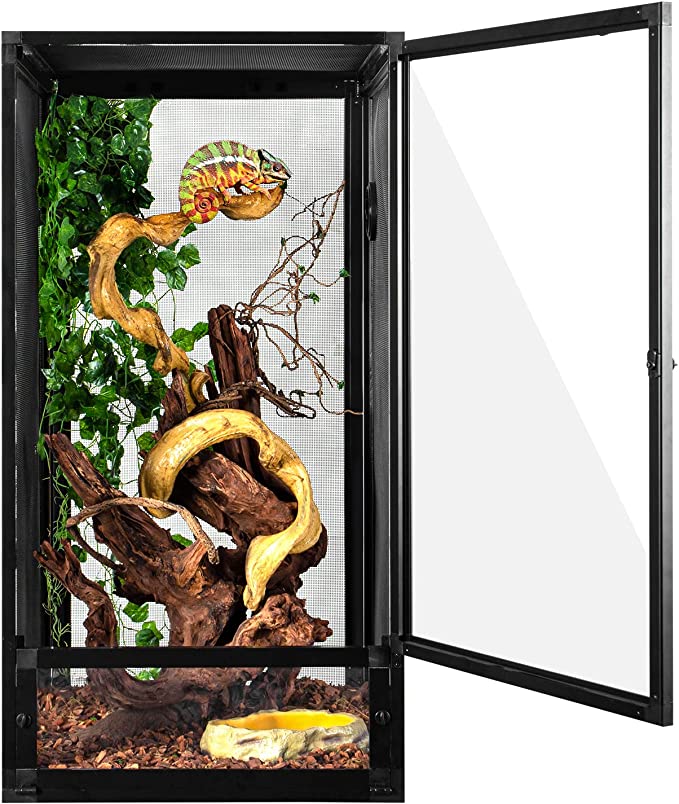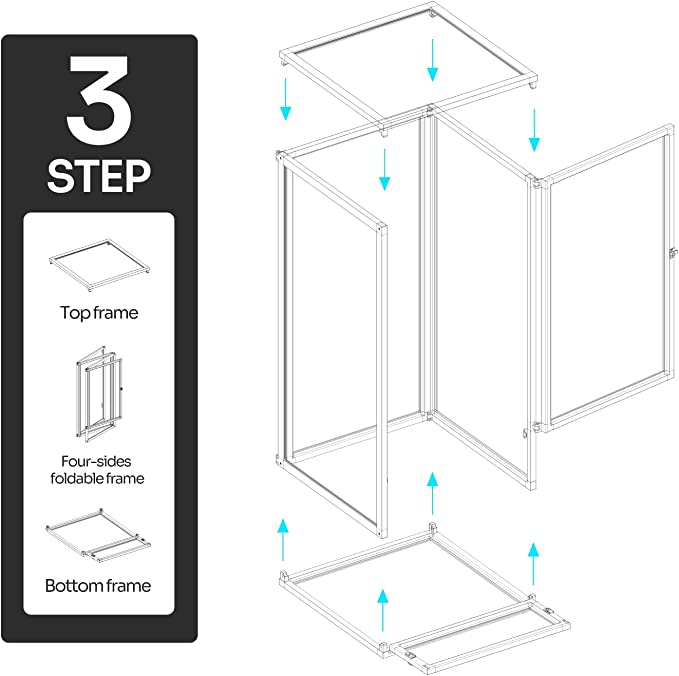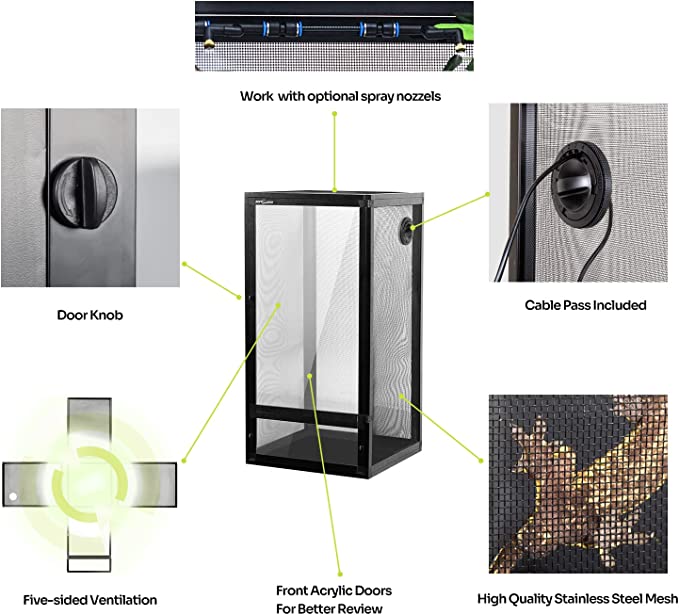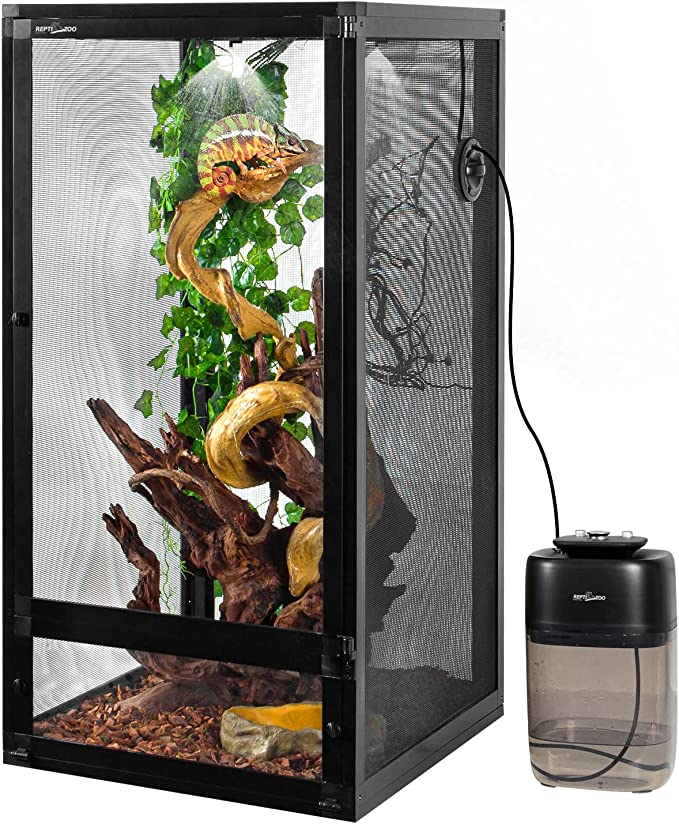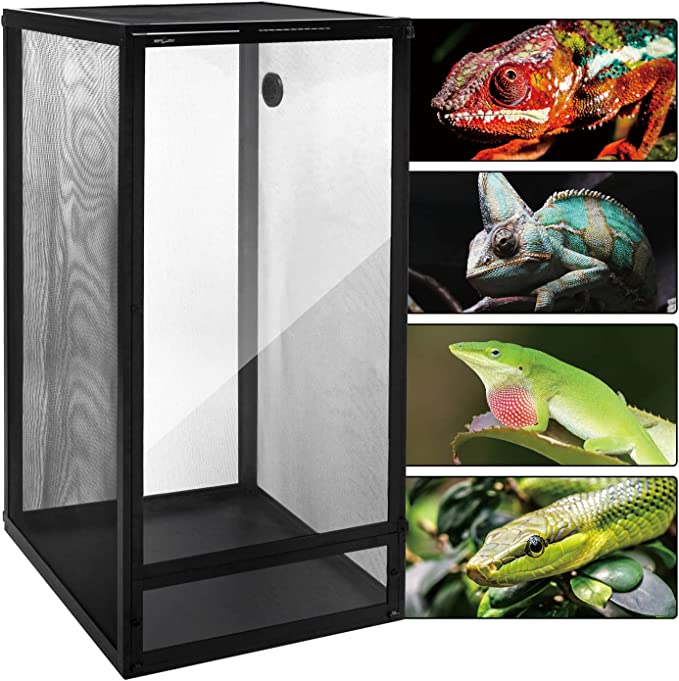 Fast Delivery to USA

FedEx, UPS and other reliable carriers.

Orders Over $2000 To Automatically Enjoy $160.00 off

Free Shipping & Tax To USA
REPTI ZOO 120 Gallon Large 24x24x48 inch Foldable Reptile Open Fresh Air Aluminum Screen Chameleon Breeding Cages
1. Easy Clean and Foldable Cage,  Large hinged front door offering full access to cage interior for easy substrate removal.Patented designed with foldable back and side panels,3 steps easy assembled.
2. Excellent Ventilatione, Mesh Panels is more lightweight and durable,easier to move, simpler for deconstruction,the reptile cage is highly breathable and transparent for 360° panoramic views. Grid design around, five sides ventilation to reduce odor, so that climbing pets have a good living environment.
3. Large Cage &Cable Pass,  The size of REPTI ZOO aluminum screen cage is: 24 x 24 x 48 inches,120 gallon,this reptile enclosure provides adequate space for reptiles to move, explore, hide,rest and feel secure,large enough feeding enclosure area allowing you to create and decorate a comfort habitat environment for your reptile pet.Cord access port allows use of power cords and tubes of rainfall devices or reptile fogger.
4. High Quality&Escape-proof,  Fresh air screen habitat made of black anodized aluminum frame is sturdy and long lasting.Security buckle on the lid ensure the tank closed tightly, prevent your amphibian chameleon pets from escaping. And the security lock avoid the doors open accidently by your kids and keep your kids safe.
5. Suit for,  Versatile reptile cage can be used as iguana cage or chameleon habitat.For hatchling green Iguanas,geckos,anoles,palace guards,insects and other arboreal species of lizards.
REPTI ZOO is a company with more than 16 years experience specializing in the design and manufacturing and selling of reptile equipment based on a creative R&D team, quality product manufacturing and strict quality control systems. Our goal is to provide our customers with high quality products and good service.
Easy Install and Front Door Can Fully Open
Door Knob

The security lock avoid the doors open accidently by your kids or pets and is an extra security measure to keep the animals in the terrarium.

Stainless Steel Mesh

Fresh air screen habitat made of black anodized aluminum frame is sturdy and long lasting.
 

Cable Pass System

Rotating fixed structure can holds 3 lines firmly. This grommet is made of ABS, it is durable and easy to install and uninstall.

Dimension Information

 

Size:24*24*48inch

120 Gallon
Recommend Use with The REPTI ZOO Rain Forest Products
It can be used as iguana or chameleon habitat.For hatchling green Iguanas,geckos,anoles,palace guards,insects or other arboreal species of lizards.
Free replacement parts once a year. All customers who purchase Reptizoo products from our website: https://reptizoo.store/ can enjoy free spare parts replacement service once a year.
Returns Policy
Warranty Period REPTIZOO Guarantees REPTIZOO ORDER purchased from https://reptizoo.store/ for a period of one year, verified with a copy of the original dated purchase receipt. We do not accept warranty after-sales for orders from third-party platforms. If the product proves defective, REPTIZOO will replace or repair it or any defective components, consumer only pay the shipping charges, Tax fee. As all of our products require initial consumer assembly, no compensation shall be provided for subsequent re-assembly to replace defective components
ACCEPTABLE CONDITIONS FOR A RETURN To be eligible for a return, you should meet the next requirements. No. Requirements 1. Proof of purchase. You bought on reptizoo.store. Home page is https://reptizoo.store
2. If you subjectively don't like our products or refuse signing for your order, your item must be in the same condition that you received it(unworn or unused, with tags, and in its original packaging).
3. REPTIZOO will bear all the cost of the return/exchange including shipment fee if There is any major defect found with proof of evidence; Either sent in the form of an image or video through your email to us.
4. For return of personal reasons, the shipping fee is born by customer and will be deducted from the refund total: Customer dislikes the product and returns it, other personal reason like "wrong size", "doesn't fit", "no longer needed/wanted" etc.
Shipping
Logistics partners mainly include FedEx, UPS and other reliable carriers.
Time of Arrival:3-6 business days
Note: 1. Currently, shipping services outside of the United States are not available.
2. Selling Price is TAX included. The shipping out time with your order may be adjusted based on actual circumstances, sorry for the inconvenience.
2. DELIVERY PERIODS We try to send your orders within 72 hours. After your order has been shipped, a shipping confirmation will be sent to your e-mail address.
The carrier is UPS/FedEx. It may take 2-4 days for your shipment to be scanned by UPS/FedEx. Therefore, the logistics order number will be uploaded after scanning. Before uploading the logistics order number, your order have actually been dispatched.If you have any question, please contact us by email: shopify@repti-zoo.com
We cannot provide additional shipping information or documentation for third party shipping. All expected delivery dates given by reptizoo are based on estimates. Any changes made by the customer after the product has been shipped, including but not limited to changing the address, deferring an order, or updating shipping preferences/preferences, will result in the abandonment of the option for replacements and/or refunds if problems occur.
3. CHANGE OF DELIVERY ADDRESS NO FEE for changing the delivery address BEFORE your order shipped out. $45 for changing the delivery address if the logistics information shows during transport. $80 will be charged if the package has already been successfully delivered to the original address.
4. ORDER TRACKING If you have already registered on reptizoo you can track your order, shipping and processing information in your account or https://reptizoo.store/apps/order-tracking. If you have not registered on our website, you can track them here using tracking number https://reptizoo.store/apps/order-tracking. For more shipping information, please email us at shopify@repti-zoo.com. We will respond to you within 24 hours. .