Fast Delivery to USA

FedEx, UPS and other reliable carriers.

Orders Over $2000 To Automatically Enjoy $160.00 off

Free Shipping & Tax To USA
REPTI ZOO 2.2L Solo Adjustable Starter Silent Pump Mister with 2pcs Nozzles for Reptile TR07
Integrated Design Mini Reptile Humidifier: You can add water directly to the water inlet of the main engine without removing the water bucket. Up to 0.57 Gallon (2.2L) of water can be accommodated, and a visual water level design is adopted.
Timed Spray Function & Adjustable Rainfall System: With a built-in timer, the product can imitate the natural environment and regularly spray water onto your pets or rainforest landscapes. And the sprayer can adjust the spray flow to fully simulate the natural rainforest environment.
Super Silent Pump: With a micro booster pump, the reptile mister fogger runs stable and quietly, which gives your pets a comfortable and quiet environment.
360° Spray Nozzle: The 360° spray nozzle can realize multi-angle adjustment and a wide spraying range, so this fogger can spray water to your pets or rainforest landscapes when they are in anywhere the tank.
12-Month Warranty: Every REPTI ZOO Reptile Fogger comes with a 12-month warranty. If you are not satisfied, please message our team directly through Amazon.
Accessories Included: Power adapter: 1pcs; Black water pipe: 1pcs(φ6*98.4in); Copper filter head: 1pcs; Plug: 1pcs; Spray nozzle component: 2pcs.
These misting systems provide precipitation and humidity control for various species of plants, amphibians, and reptiles. The systems are the perfect addition to your terrarium, offering everything you need for your misting needs. Good for solo starter.
 
A waterproof surface can refill water from the top of the mainframe directly.
A. Cycle (H): Set spray cycle time in hours
B. Duration(S): Set spray working time in seconds
C. Power: Rotate from OFF to MIN and start adjusting volume MIN to MAX
| | |
| --- | --- |
| |   |
| The visual mini-water tank is adopted, it can hold up to 2.2L of water | Independent power supply, visible working light (Rotate "OFF" to "MIN") |
360° spray nozzle can realize multi-angle adjustment and wide spraying range.
 

Quick assemble, easy to operate.
 Accessories Included:


Power adapter: 1pc
Black water pipe: 1pc(φ6*98.4in)
Filter head: 1pc
Plug: 1pc
Spray nozzle component: 2pcs
Instructions: 1pc
Warranty card: 1pc
Parameter:
Power adapter Input: 100-240V 50/60Hz
Power adapter Output: DC 6V 1A
Host input voltage: DC 6V
Host input current: Max.1A
Open flow (without nozzle): Max.0.4L/min
Working flow (with two nozzles): 0.06L/min
Working sound: ≤45dB(A)
About this product
The smart spray humidifier is designed for different artificial reptile terrariums
It has multiple work modes
You can use it without spray nozzle or with 2 spray nozzles for complex reptile habitats
It has safe power adapter for daily use
Also, it's simple to assemble and use for any kinds of reptile terrariums
Removable top lid(wire mesh screen)
Specification
Brand
REPTI ZOO

Product type
Humidifier

Material
Plastic

Length

6″



Depth

6″



Height

8″



Volume
0.6 Gal / 2.2 L

Weight
2 lbs.


Power Adapter

Input:

100~240V, 50/60Hz

Output:

6V DC, 1A

Open flow

Without spray nozzle:

Min: 0.3L/M

Max: 0.4L/M

Working flow

With 2 spray nozzles:

Max: 0.085L/M

Work noise
≤45dB(A)
Animal type
Reptile
Decorative parts and background are not included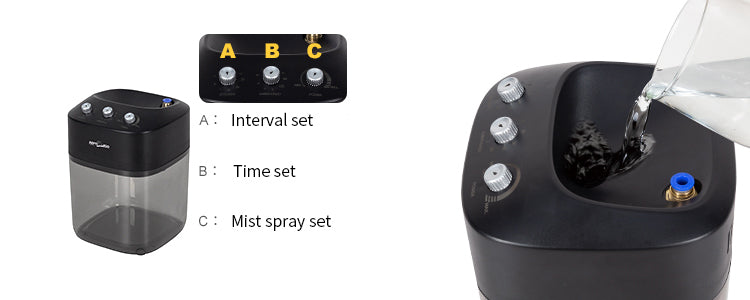 Purchase tips
About size and volume
The product volume and its length, depth and height are its final assembly size and volume, not the package size.
Discount
If you have the discount code, you need to input the discount code at the checkout.
We provide automatic discount at the checkout when we are carrying out a promotion sometimes.
Delivery area
Continental United States
Not include: 

Alaska, Hawaii
Shipping fee
Carrier


Free replacement parts once a year. All customers who purchase Reptizoo products from our website: https://reptizoo.store/ can enjoy free spare parts replacement service once a year.
Returns Policy
Warranty Period REPTIZOO Guarantees REPTIZOO ORDER purchased from https://reptizoo.store/ for a period of one year, verified with a copy of the original dated purchase receipt. We do not accept warranty after-sales for orders from third-party platforms. If the product proves defective, REPTIZOO will replace or repair it or any defective components, consumer only pay the shipping charges, Tax fee. As all of our products require initial consumer assembly, no compensation shall be provided for subsequent re-assembly to replace defective components
ACCEPTABLE CONDITIONS FOR A RETURN To be eligible for a return, you should meet the next requirements. No. Requirements 1. Proof of purchase. You bought on reptizoo.store. Home page is https://reptizoo.store
2. If you subjectively don't like our products or refuse signing for your order, your item must be in the same condition that you received it(unworn or unused, with tags, and in its original packaging).
3. REPTIZOO will bear all the cost of the return/exchange including shipment fee if There is any major defect found with proof of evidence; Either sent in the form of an image or video through your email to us.
4. For return of personal reasons, the shipping fee is born by customer and will be deducted from the refund total: Customer dislikes the product and returns it, other personal reason like "wrong size", "doesn't fit", "no longer needed/wanted" etc.
Shipping
Logistics partners mainly include FedEx, UPS and other reliable carriers.
Time of Arrival:3-6 business days
Note: 1. Currently, shipping services outside of the United States are not available.
2. Selling Price is TAX included. The shipping out time with your order may be adjusted based on actual circumstances, sorry for the inconvenience.
2. DELIVERY PERIODS We try to send your orders within 72 hours. After your order has been shipped, a shipping confirmation will be sent to your e-mail address.
The carrier is UPS/FedEx. It may take 2-4 days for your shipment to be scanned by UPS/FedEx. Therefore, the logistics order number will be uploaded after scanning. Before uploading the logistics order number, your order have actually been dispatched.If you have any question, please contact us by email: shopify@repti-zoo.com
We cannot provide additional shipping information or documentation for third party shipping. All expected delivery dates given by reptizoo are based on estimates. Any changes made by the customer after the product has been shipped, including but not limited to changing the address, deferring an order, or updating shipping preferences/preferences, will result in the abandonment of the option for replacements and/or refunds if problems occur.
3. CHANGE OF DELIVERY ADDRESS NO FEE for changing the delivery address BEFORE your order shipped out. $45 for changing the delivery address if the logistics information shows during transport. $80 will be charged if the package has already been successfully delivered to the original address.
4. ORDER TRACKING If you have already registered on reptizoo you can track your order, shipping and processing information in your account or https://reptizoo.store/apps/order-tracking. If you have not registered on our website, you can track them here using tracking number https://reptizoo.store/apps/order-tracking. For more shipping information, please email us at shopify@repti-zoo.com. We will respond to you within 24 hours. .