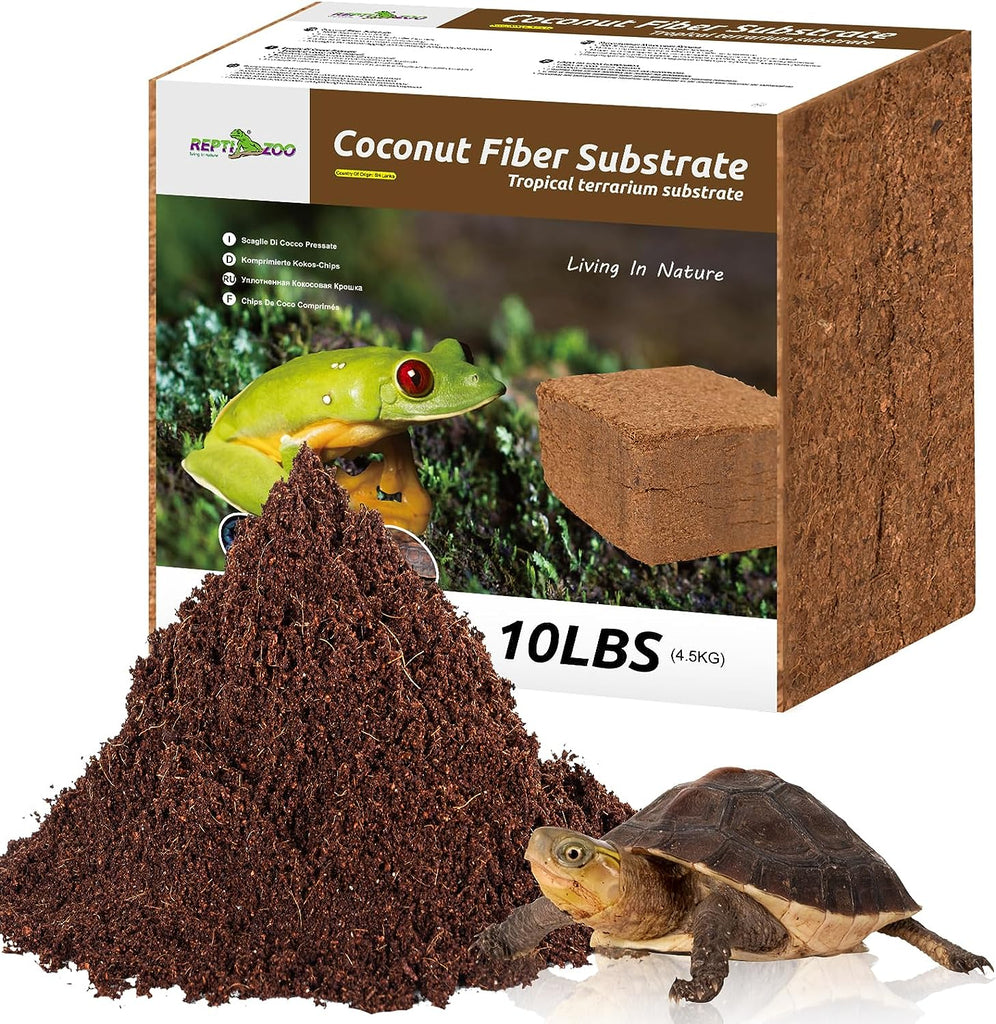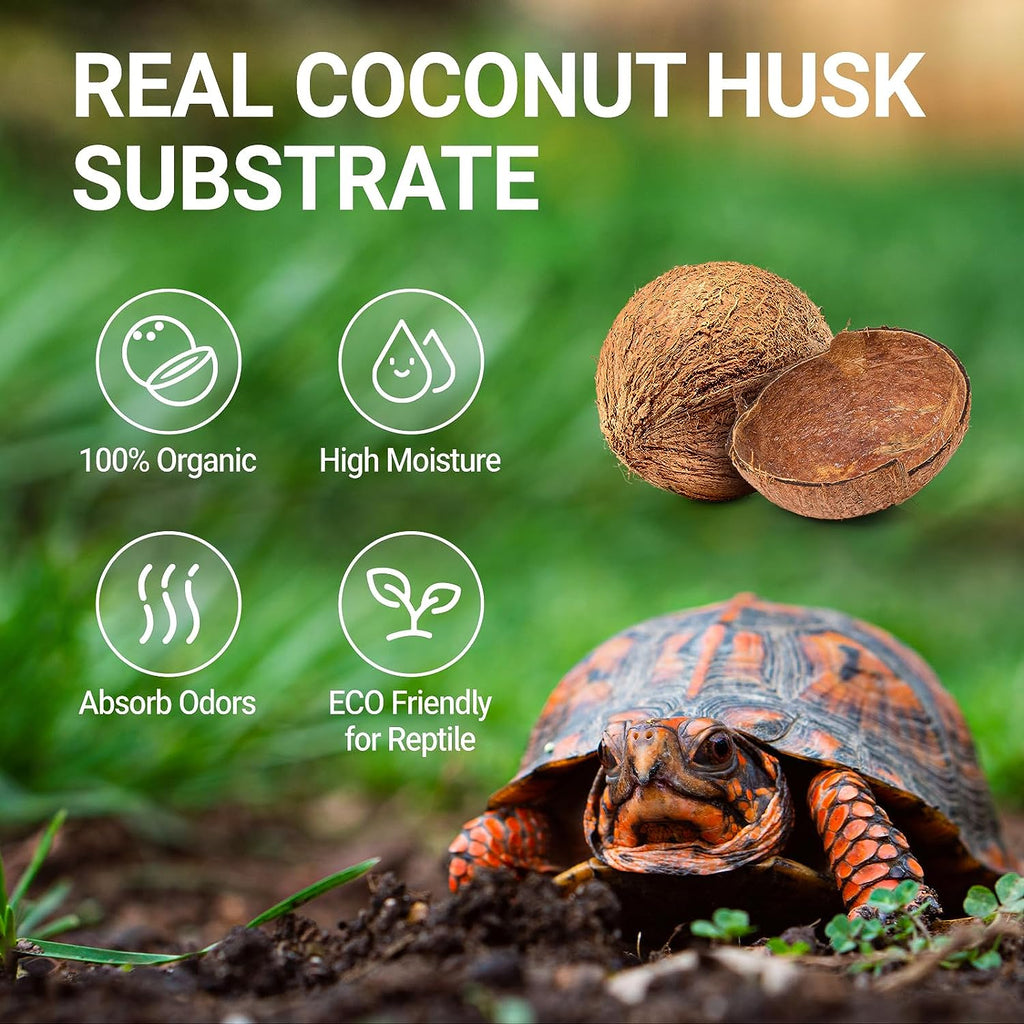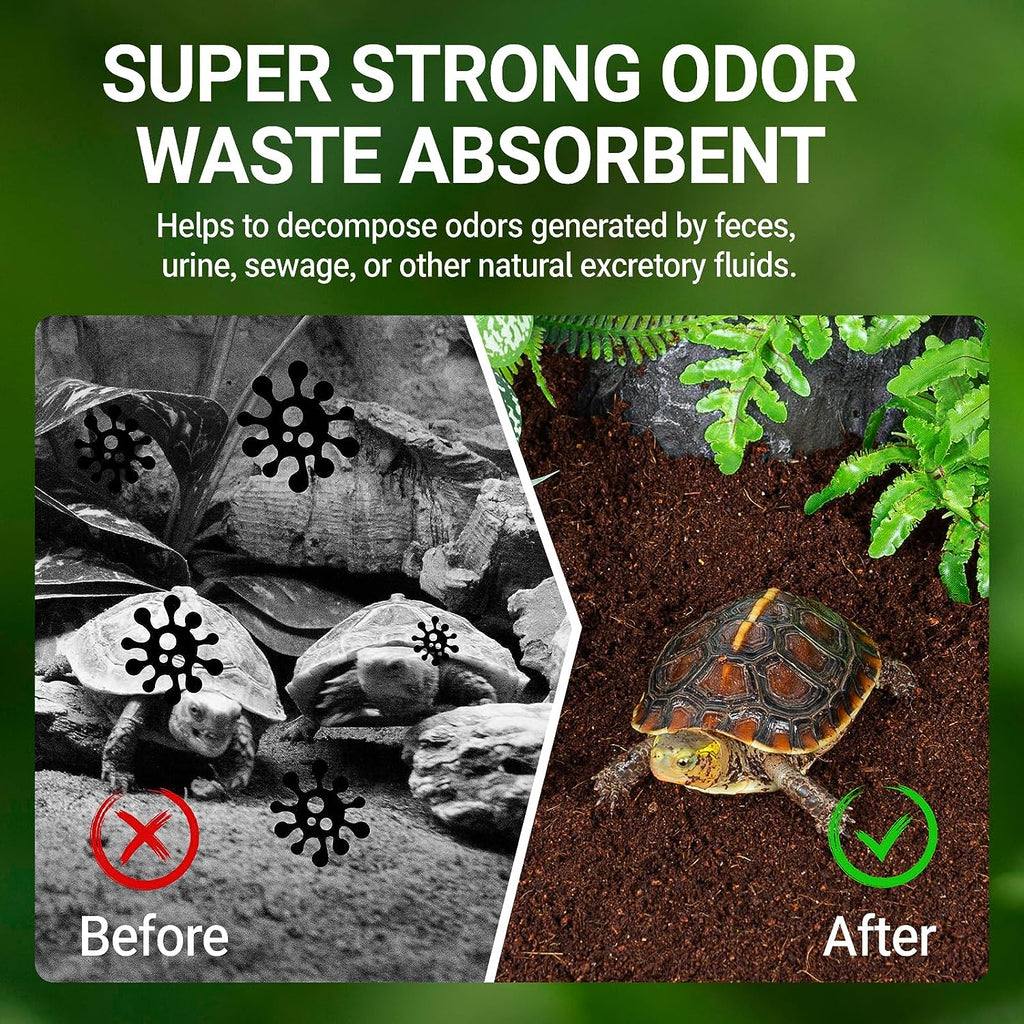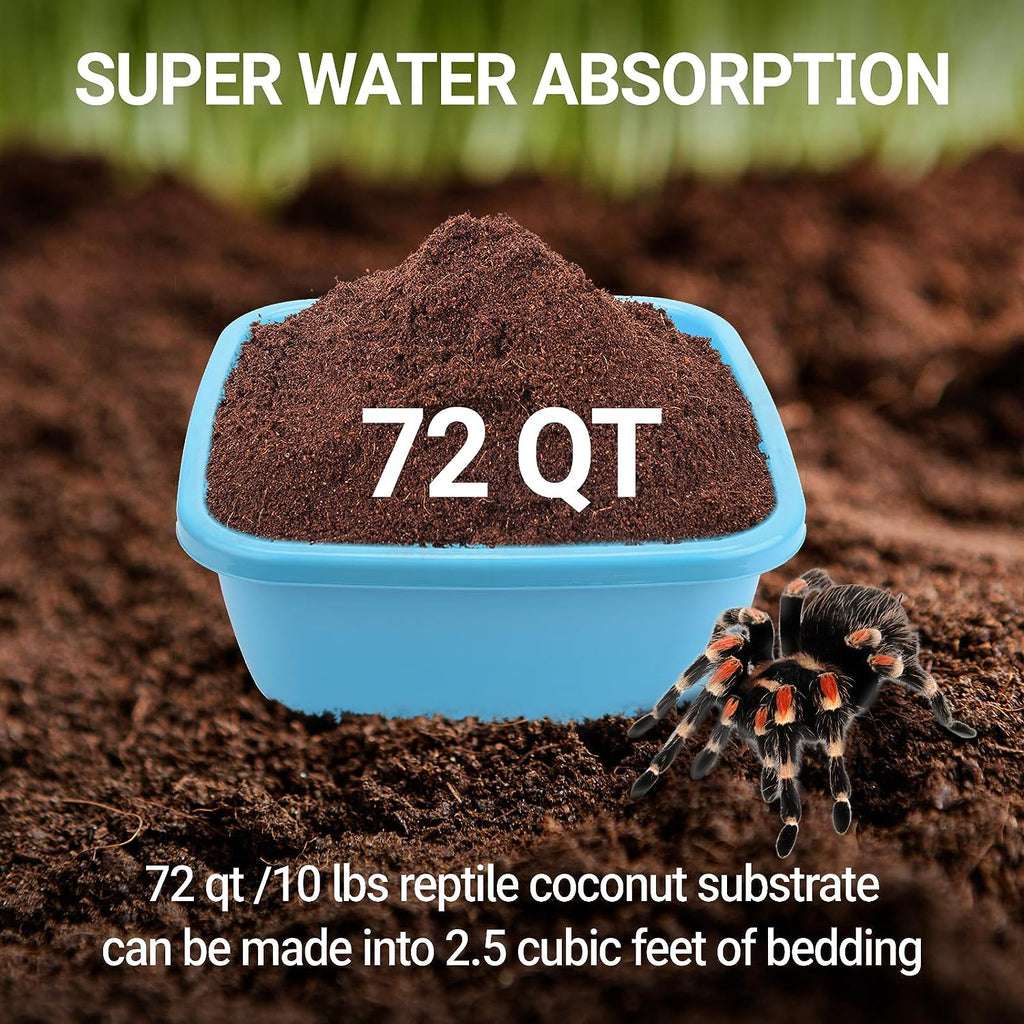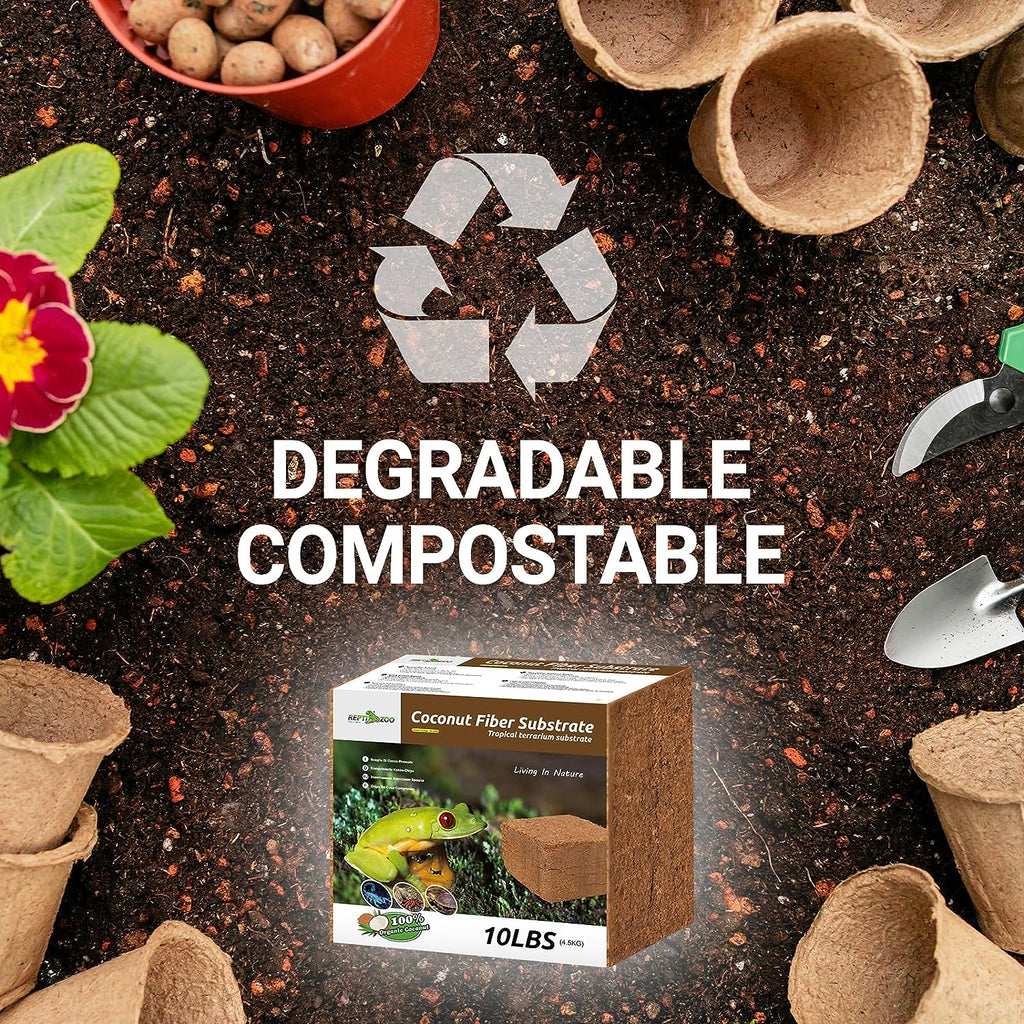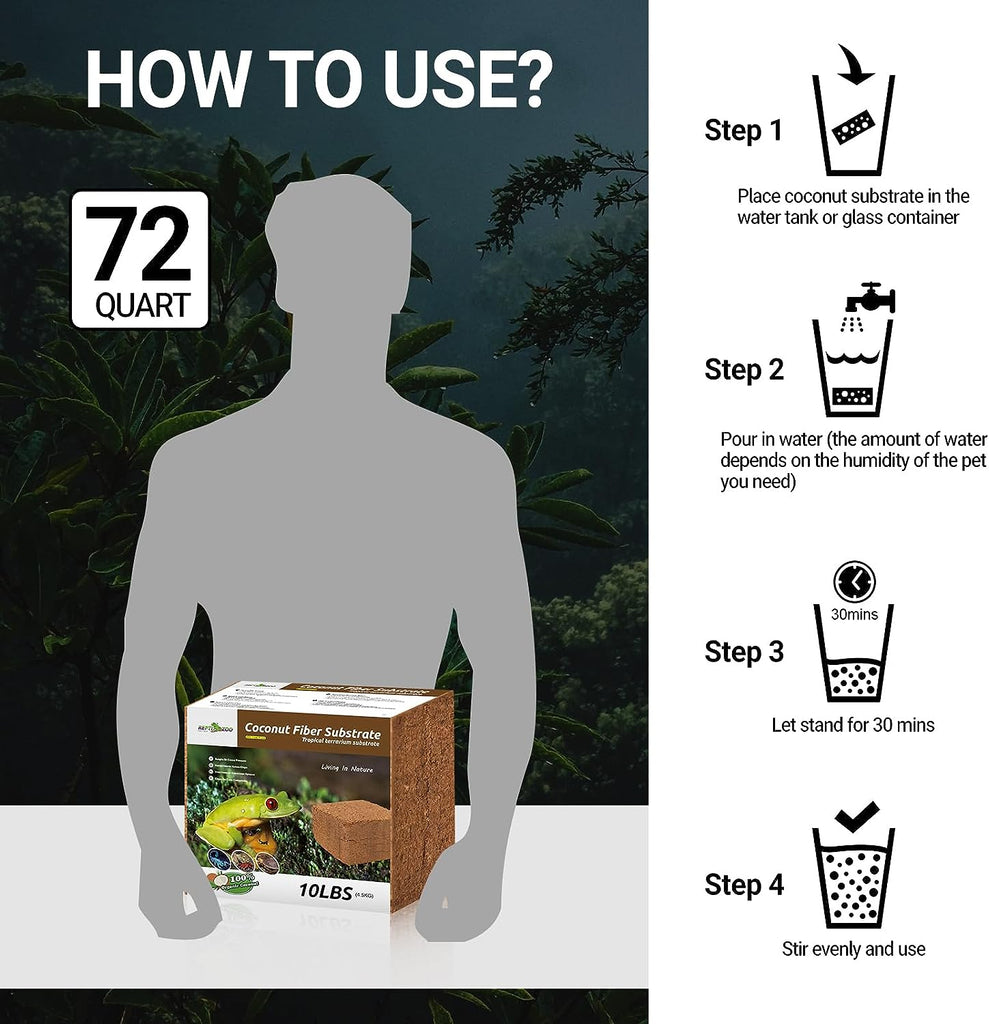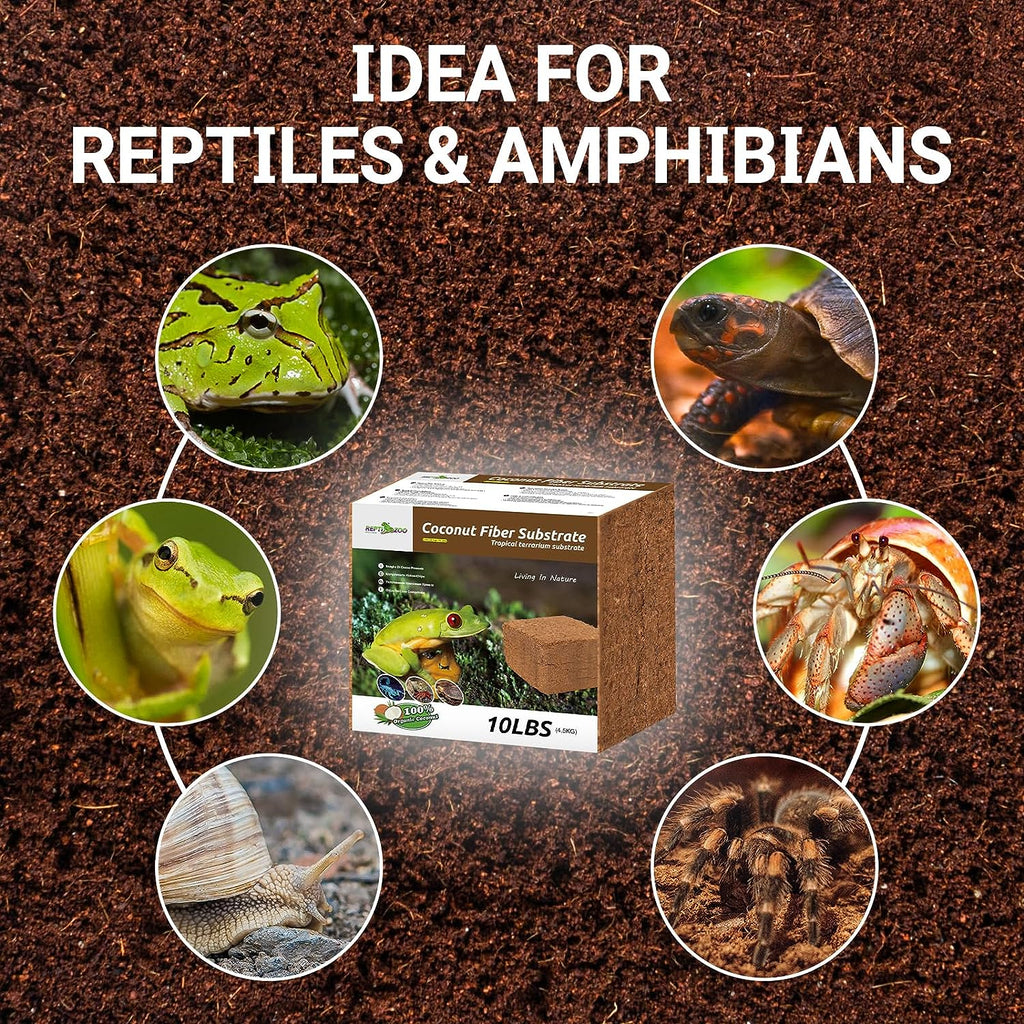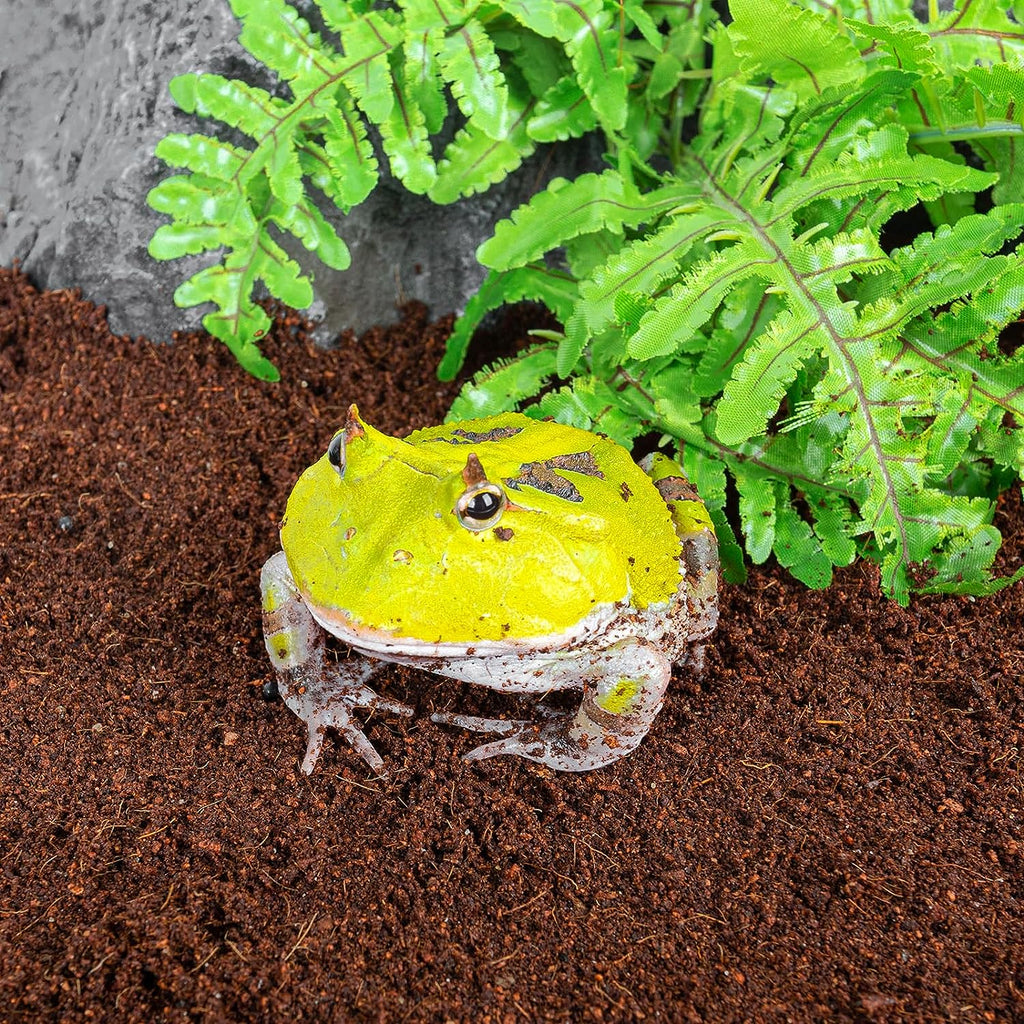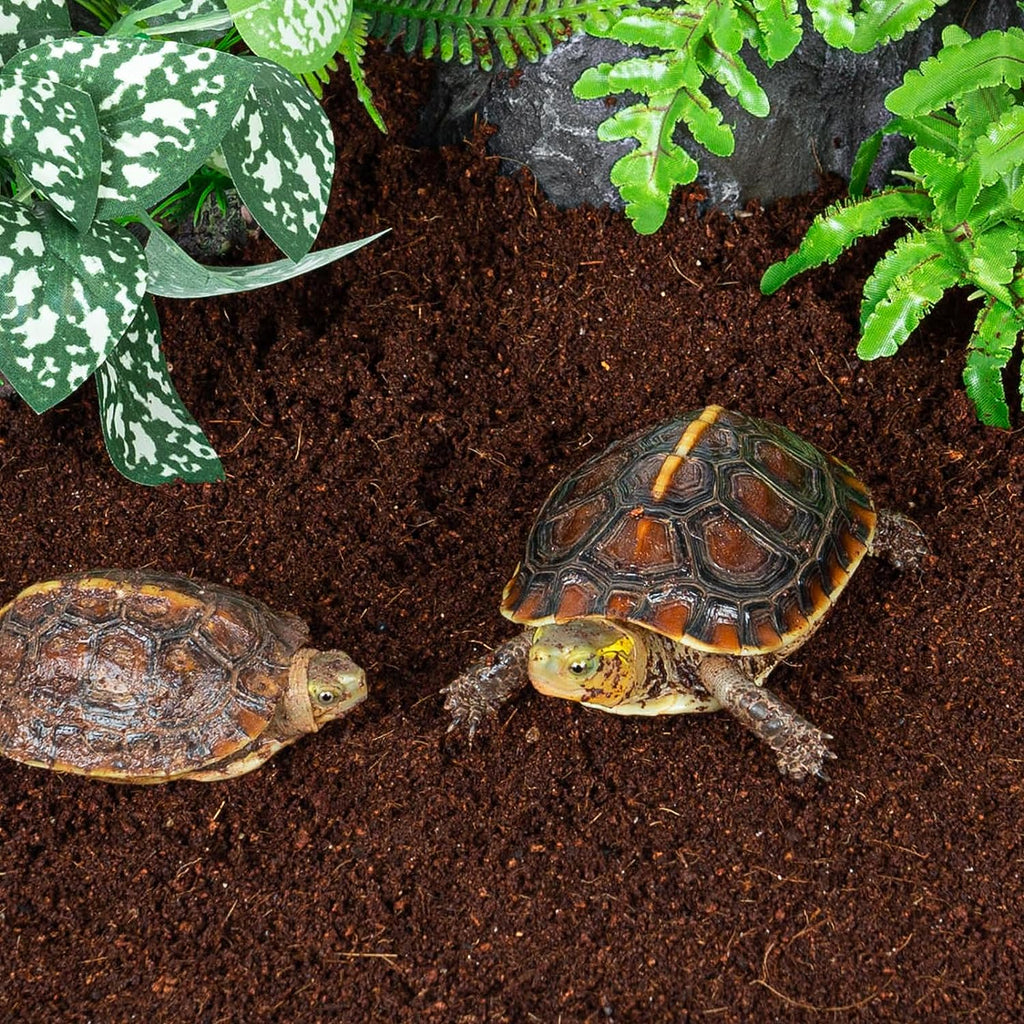 Fast Delivery to USA

FedEx, UPS and other reliable carriers.

Orders Over $2000 To Automatically Enjoy $160.00 off

Free Shipping & Tax To USA
REPTI ZOO 100% Organic Reptiles Coconut Fiber Substrate 72 Quart
【Fine Coconut Substrate for Reptiles】: REPTI ZOO Coconut Substrate comes from real coconut shells and is suitable for use by reptiles, amphibians, and invertebrates, such as lizards, geckos, spiders, turtles, frogs, etc. Mild to skin and scales.

【Super Moisturizing & Covering a Large Area】: 72 Quarts/10 lbs/ 4.5kg Reptile Coconut Substrate can be made into high-quality bedding of 2.5 cubic feet which can perfectly covering water tanks or glass containers.

【Super Strong Odor & Waste Absorbent】: 100% natural organic coconut substrate helps to decompose odors generated by feces, urine, sewage or other natural excretory liquids. Maintain fresh air indoors or in public places, and maintain the cleanliness and health of reptile habitats.

【Compostable & Easy to Use】: This is an all natural material that only needs to be chopped and add an appropriate amount of water to moisten the coconut substrate according to the specific type and use it. Biodegradable and compostable, not only safe for animals, but also suitable for planting plants, flowers, herbs, vegetables, and other garden plants

【Reptiles Expert For You】: REPTI ZOO has 16 years of experience in the reptile industry and is a professional manufacturer of reptile equipment and consumables. We guarantee that the coconut substrate provided to you is 100% natural and biodegradable, free from dirt and impurities. Create a comfortable and safe living environment for your pet

---

Product Description

FROM REPTI ZOO 72 QUART COCONUT SUBSTRATE FOR REPTILES- A kind of fiber fertilizer extracted from the coconut shell

Feature:

 

Natural and sustainable

: This Coir is a

 

100%

 

environmental product, which is mainly extracted from lignocellulose, that is the shell outside the coconut, without any additives.

Enhanced burrowing and digging experience

: Reptiles, such as snakes and certain lizard species, love to burrow and dig. Coconut chips provide a loose and textured surface, mimicking their natural habitat and encouraging natural behaviors.

Optimal moisture retention

: At the same time, it has excellent moisturizing properties, which can be used to create a breeding environment for turtles and the landscaping of turtle crates. It can also be used to ensure the safe hibernation of turtles due to its good moisturizing effect.

Multipurpose

: Suitable for tank bedding of reptiles, Amphibian and Invertebrate, such as ball snake, gecko, spiders, turtle, etc.

It is one of the preferred consumables for comfortable pet habitats, making living and breeding safer and more comfortable.

 

TIPS AND TRICKS

1. How to use?

 

Put coconut substrate in a container

Add an appropriate amount of water (30L recommended for one brick)

Let stand for 30 minutes

Evenly stir, mix with appropriate humidity, and place in the pet's habitat

 

2. Large Coverage Area

 

REPTI ZOO high-quality organic coconut substrate are 100% safe for reptiles and Amphibian.

10lb

 

can be made into

 

72 quarts or 2.5 cubic feet

 

of high-quality bedding, which means you can add them to glass containers of different sizes or layouts, enough for use.

Because it does not contain dirt, fibers, or dust, it can help them thrive in a cleaner, healthier, and more natural environment.

 

ATTENTION

1. What is the optimal state of reptiles substrate?

 

The optimal moisture content for coconut soil should be that it is brown in color and tightly held with your hands without dripping water. After loosening, the coconut soil can naturally disperse;

If the coconut soil has turned black, it is best not to enter the tank. If the humidity is too high, the bottom will smell over time.

 

2. How often should it be replaced?

 

The key factor affecting the lifespan of coconut soil is humidity;

Suggest replacing it once a month.

 

3. How to store this reptiles coconut substrate?

 

Keep dry and avoid direct sunlight

 

4. What can I do after replacement?

 

Used to make flower fertilizer

 

1. Product Details:

 

100% natural coconut substrate

Supports reptiles, amphibians, and invertebrates

Effectively decompose the odor of excreta such as liquids, water, and waste

Fresh scent, creating a cleaner environment

Easy to cut to fill terrace and water tank

Product Weight: 10 lb/4.50 kg/4500g/per

Coverage Size: Covers 65 Liters (2.5 cu. Ft.) up to 72 Quart per Block

Sustainable

Fertilizable - for plant planting

 

2. What you will get?

 

1x 10LB/72 quart reptiles substrate

 

100% Natural Organic

 

Derived from coconut husks, making it a renewable and bio-degradable choice for responsible pet owners.

Free from harmful chemicals and additives, making it safe for reptiles to interact with and ingest, reducing the risk of health issues.

 

Excellent Moisturizing Properties

 

It can help you keep the glass container at a more balanced humidity level, making your pet more comfortable when sleeping, walking, or breeding.

It can be used for an extended period, making it a cost-effective choice for reptile habitats.

 

Growing Plants with Coconut Coir

 

Coconut coir can be used as the growing medium for both seedlings and mature plants, as rooting mats and growing baskets, and for rooting cuttings.

No matter what form of coco coir you're using, always wet it thoroughly before you plant, and pay careful attention to the moisture level during the growing process.

 




Important for growth, sustainability and overall animal well-being.

 

Coconut shell fiber matrix is a natural matrix of animals and plants, which can stimulate natural excavation and burrowing behavior.

Helps maintain a warm water tank environment and increase the humidity of terrarium, which is important for reptiles and amphibians.

Increasing humidity appropriately enables them to maintain their body temperature more effectively and increase their natural energy levels.

Superior moisturizing properties can also be used to create a breeding environment for tortoise and the landscaping of turtle terrarium, ensuring their safe hibernation.

 
Free replacement parts once a year. All customers who purchase Reptizoo products from our website: https://reptizoo.store/ can enjoy free spare parts replacement service once a year.
Returns Policy
Warranty Period REPTIZOO Guarantees REPTIZOO ORDER purchased from https://reptizoo.store/ for a period of one year, verified with a copy of the original dated purchase receipt. We do not accept warranty after-sales for orders from third-party platforms. If the product proves defective, REPTIZOO will replace or repair it or any defective components, consumer only pay the shipping charges, Tax fee. As all of our products require initial consumer assembly, no compensation shall be provided for subsequent re-assembly to replace defective components
ACCEPTABLE CONDITIONS FOR A RETURN To be eligible for a return, you should meet the next requirements. No. Requirements 1. Proof of purchase. You bought on reptizoo.store. Home page is https://reptizoo.store
2. If you subjectively don't like our products or refuse signing for your order, your item must be in the same condition that you received it(unworn or unused, with tags, and in its original packaging).
3. REPTIZOO will bear all the cost of the return/exchange including shipment fee if There is any major defect found with proof of evidence; Either sent in the form of an image or video through your email to us.
4. For return of personal reasons, the shipping fee is born by customer and will be deducted from the refund total: Customer dislikes the product and returns it, other personal reason like "wrong size", "doesn't fit", "no longer needed/wanted" etc.
Shipping
Logistics partners mainly include FedEx, UPS and other reliable carriers.
Time of Arrival:3-6 business days
Note: 1. Currently, shipping services outside of the United States are not available.
2. Selling Price is TAX included. The shipping out time with your order may be adjusted based on actual circumstances, sorry for the inconvenience.
2. DELIVERY PERIODS We try to send your orders within 72 hours. After your order has been shipped, a shipping confirmation will be sent to your e-mail address.
The carrier is UPS/FedEx. It may take 2-4 days for your shipment to be scanned by UPS/FedEx. Therefore, the logistics order number will be uploaded after scanning. Before uploading the logistics order number, your order have actually been dispatched.If you have any question, please contact us by email: shopify@repti-zoo.com
We cannot provide additional shipping information or documentation for third party shipping. All expected delivery dates given by reptizoo are based on estimates. Any changes made by the customer after the product has been shipped, including but not limited to changing the address, deferring an order, or updating shipping preferences/preferences, will result in the abandonment of the option for replacements and/or refunds if problems occur.
3. CHANGE OF DELIVERY ADDRESS NO FEE for changing the delivery address BEFORE your order shipped out. $45 for changing the delivery address if the logistics information shows during transport. $80 will be charged if the package has already been successfully delivered to the original address.
4. ORDER TRACKING If you have already registered on reptizoo you can track your order, shipping and processing information in your account or https://reptizoo.store/apps/order-tracking. If you have not registered on our website, you can track them here using tracking number https://reptizoo.store/apps/order-tracking. For more shipping information, please email us at shopify@repti-zoo.com. We will respond to you within 24 hours. .