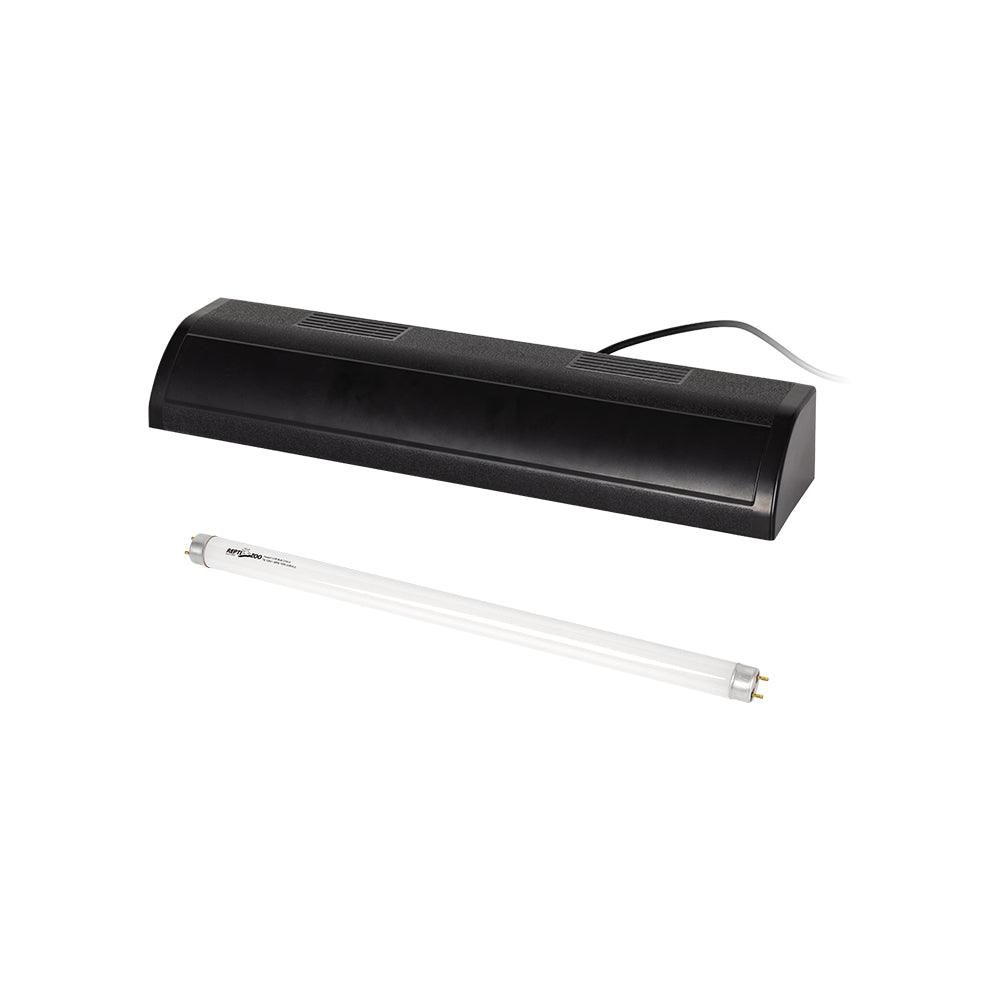 Fast Delivery to USA

FedEx, UPS and other reliable carriers.

Orders Over $2000 To Automatically Enjoy $160.00 off

Free Shipping & Tax To USA
REPTI ZOO Reptile Terrarium Hood Tropical Desert T8 Strip Light Fixture with 18 Inch UVB Lamp Bulb 15 Watt(Include), ETL Certified
Features
1. New Light Fixture Design,
our reptile lighting with a low-profile, sleek design, ideal for terrariums with metal screen covers.
2. Convenient to Use,
REPTIZOO reptile lighting High Output Light Fixture for your reptiles with a convenient on/off switch. Use with one Rainforest or Desert 18" T8 UVB light bulb (sold separately)
3. Increased Efficiency,
this kind of reptile lighting with a unique curved design for Increased Lamp Efficiency.
4. This reptile lighting suit is for Reptiles,
Anoles, Day Geckos, Tokay Geckos, Iguanas, Basilisks, Chameleons, Bearded dragons, and So on.
5. Warranty:
One-year quality warranty, if you have any questions about our reptile light fixtures, please contact us, and we will reply and help you in 24 hours.
T8 Strip Light Fixture
T8 Strip Light Fixture, 15W has a low profile and sleek design. High Output Light Fixture for your reptiles with convenient on/off switch. Use With one Rainforest or Desert 18" T8 UVB light bulb, 15W (T1815/D1815 sold separately). Ideal for terrariums with metal screen cover.
Caution:

Never place a light or light fixture inside a habitat. A hot light bulb can harm your pets.

To reduce the risk of fire - to use only T8 type 15 watt max lamp and 120V~60Hz.

Warning: After the lamp is inserted into the lamp holder, turn it 90° clockwise or counterclockwise, and then turn on the power switch after hearing the "squeak" sound. Failure to do so may result in electric shock, burnout of the lamp, or even fire. Keep away from any combustibles.
 

Convenient to use:

 

High Output Reptile Lighting Fixture for your reptiles with convenient on/off switch.

Ideal For:

 

terrariums with metal screen cover
| | |
| --- | --- |
| Use With: one Rainforest or Desert 18" T8 UVB light bulb (sold separately) | Arrange decor inside terrarium to create hiding places and shaded areas to allow reptiles to move away from the UV lamp. In nature, reptiles will bask for part of the day and then move into the shade as needed |
Installation:

 


Review the instructions prior to plugging in and powering on the hood fixture.

Install 18" REPTIZOO T8 UVB bulb (sold separately) into fixture.

Place fixture on top of metal screen cover.

Do not place fixture in direct contact with water.

 


Bulb Replacement:

 


Power off and unplug light fixture. Allow bulb (sold separately) to cool.

Turn and remove used bulb.

Install new bulb.

Plug in light fixture and power on.

 

Free replacement parts once a year. All customers who purchase Reptizoo products from our website: https://reptizoo.store/ can enjoy free spare parts replacement service once a year.
Returns Policy
Warranty Period REPTIZOO Guarantees REPTIZOO ORDER purchased from https://reptizoo.store/ for a period of one year, verified with a copy of the original dated purchase receipt. We do not accept warranty after-sales for orders from third-party platforms. If the product proves defective, REPTIZOO will replace or repair it or any defective components, consumer only pay the shipping charges, Tax fee. As all of our products require initial consumer assembly, no compensation shall be provided for subsequent re-assembly to replace defective components
ACCEPTABLE CONDITIONS FOR A RETURN To be eligible for a return, you should meet the next requirements. No. Requirements 1. Proof of purchase. You bought on reptizoo.store. Home page is https://reptizoo.store
2. If you subjectively don't like our products or refuse signing for your order, your item must be in the same condition that you received it(unworn or unused, with tags, and in its original packaging).
3. REPTIZOO will bear all the cost of the return/exchange including shipment fee if There is any major defect found with proof of evidence; Either sent in the form of an image or video through your email to us.
4. For return of personal reasons, the shipping fee is born by customer and will be deducted from the refund total: Customer dislikes the product and returns it, other personal reason like "wrong size", "doesn't fit", "no longer needed/wanted" etc.
Shipping
Logistics partners mainly include FedEx, UPS and other reliable carriers.
Time of Arrival:3-6 business days
Note: 1. Currently, shipping services outside of the United States are not available.
2. Selling Price is TAX included. The shipping out time with your order may be adjusted based on actual circumstances, sorry for the inconvenience.
2. DELIVERY PERIODS We try to send your orders within 72 hours. After your order has been shipped, a shipping confirmation will be sent to your e-mail address.
The carrier is UPS/FedEx. It may take 2-4 days for your shipment to be scanned by UPS/FedEx. Therefore, the logistics order number will be uploaded after scanning. Before uploading the logistics order number, your order have actually been dispatched.If you have any question, please contact us by email: shopify@repti-zoo.com
We cannot provide additional shipping information or documentation for third party shipping. All expected delivery dates given by reptizoo are based on estimates. Any changes made by the customer after the product has been shipped, including but not limited to changing the address, deferring an order, or updating shipping preferences/preferences, will result in the abandonment of the option for replacements and/or refunds if problems occur.
3. CHANGE OF DELIVERY ADDRESS NO FEE for changing the delivery address BEFORE your order shipped out. $45 for changing the delivery address if the logistics information shows during transport. $80 will be charged if the package has already been successfully delivered to the original address.
4. ORDER TRACKING If you have already registered on reptizoo you can track your order, shipping and processing information in your account or https://reptizoo.store/apps/order-tracking. If you have not registered on our website, you can track them here using tracking number https://reptizoo.store/apps/order-tracking. For more shipping information, please email us at shopify@repti-zoo.com. We will respond to you within 24 hours. .