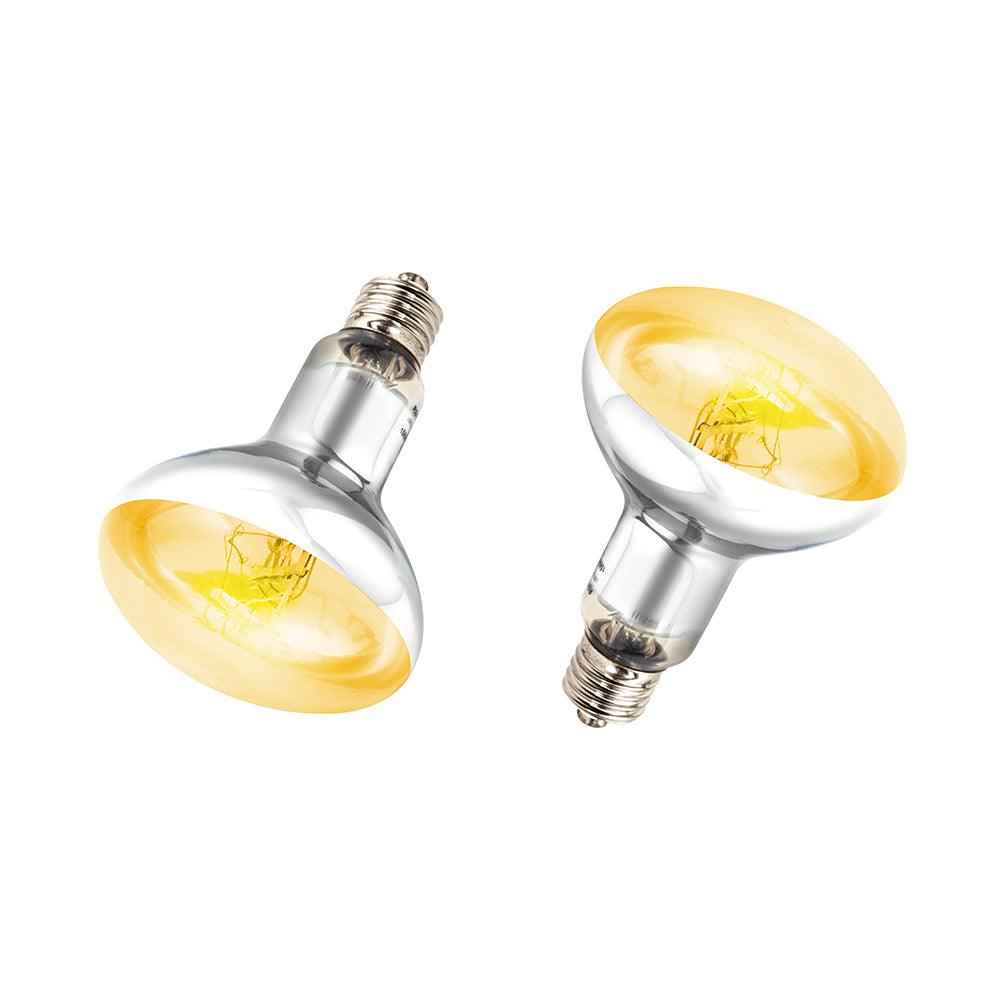 Fast Delivery to USA

FedEx, UPS and other reliable carriers.

Orders Over $2000 To Automatically Enjoy $160.00 off

Free Shipping & Tax To USA
REPTI ZOO Reptile 2PCS Heat Lamp Full Spectrum UVA UVB Reptile Sun Lamp for Reptile pets
Features
1. Simulate natural light, The UVA + UVB Sun Basking Spot Lamp Provides the necessary radiation of the sun for reptiles (visible light, heat, UVA, and UVB)
2. Essential UV light for reptiles, UVA provides the warmth that cold-blooded animals are used to in nature; UVB production of Vitamin D3 to maintain healthy skin and bones for your reptile.
3. The UVA UVB reptile light Self-Ballasted, with no external ballast required, with integrated thermal protection against overheating.
4. Package Included, 1 x REPTI ZOO UVB reptile light UVA Sun Lamp 75 W, Size: 5.31x3.74IN.
5. After-sale service, 12 monthly quality guarantee, if you have any questions about our UVB reptile lights, please feel free to contact us, we will reply and help you within 24 hours.
REPTI ZOO Super Sun Vapor Lamp is a self ballasted vapor reptile bulb that provides the benefits of natural sunlight, which is one of the most important aspects in keeping reptiles healthy. This UVB reptile light provides the proper balance of ultraviolet light (including UVA and UVB), visual light and infrared light(heat), in one easy-to-install bulb.
 

A FULL SPECTRUM LIGHT

Increased UV-B penetration distance (+30cm / 12"), the luminaires provide UVA and UVB for the reptiles's daily intake. 

SELF-BALLASTED

UVA UVB Vapor Bulb is a selfballasted vapor reptile bulb ,no external ballast required,with integrated thermal protection against overheating,
A FULL SPECTRUM LIGHT

Increased UV-B penetration distance (+30cm / 12"), the luminaires provide UVA and UVB for the reptiles's daily intake. 

USAGE GUIDELINE

Use w/ good-quality ceramic socket (standard US size) & a large/deep dome designed for large, high-wattage bulbs. Not to be used with dimmers/rheostats.
UVA TESTING

UVA light helps regulate behaviors such as feeding diurnal movement, mating and similar activities

UVB TESTING

UVB light allows the synthesis of vitamin D3 which helps to absorb calcium.
Free replacement parts once a year. All customers who purchase Reptizoo products from our website: https://reptizoo.store/ can enjoy free spare parts replacement service once a year.
Returns Policy
Warranty Period REPTIZOO Guarantees REPTIZOO ORDER purchased from https://reptizoo.store/ for a period of one year, verified with a copy of the original dated purchase receipt. We do not accept warranty after-sales for orders from third-party platforms. If the product proves defective, REPTIZOO will replace or repair it or any defective components, consumer only pay the shipping charges, Tax fee. As all of our products require initial consumer assembly, no compensation shall be provided for subsequent re-assembly to replace defective components
ACCEPTABLE CONDITIONS FOR A RETURN To be eligible for a return, you should meet the next requirements. No. Requirements 1. Proof of purchase. You bought on reptizoo.store. Home page is https://reptizoo.store
2. If you subjectively don't like our products or refuse signing for your order, your item must be in the same condition that you received it(unworn or unused, with tags, and in its original packaging).
3. REPTIZOO will bear all the cost of the return/exchange including shipment fee if There is any major defect found with proof of evidence; Either sent in the form of an image or video through your email to us.
4. For return of personal reasons, the shipping fee is born by customer and will be deducted from the refund total: Customer dislikes the product and returns it, other personal reason like "wrong size", "doesn't fit", "no longer needed/wanted" etc.
Shipping
Logistics partners mainly include FedEx, UPS and other reliable carriers.
Time of Arrival:3-6 business days
Note: 1. Currently, shipping services outside of the United States are not available.
2. Selling Price is TAX included. The shipping out time with your order may be adjusted based on actual circumstances, sorry for the inconvenience.
2. DELIVERY PERIODS We try to send your orders within 72 hours. After your order has been shipped, a shipping confirmation will be sent to your e-mail address.
The carrier is UPS/FedEx. It may take 2-4 days for your shipment to be scanned by UPS/FedEx. Therefore, the logistics order number will be uploaded after scanning. Before uploading the logistics order number, your order have actually been dispatched.If you have any question, please contact us by email: shopify@repti-zoo.com
We cannot provide additional shipping information or documentation for third party shipping. All expected delivery dates given by reptizoo are based on estimates. Any changes made by the customer after the product has been shipped, including but not limited to changing the address, deferring an order, or updating shipping preferences/preferences, will result in the abandonment of the option for replacements and/or refunds if problems occur.
3. CHANGE OF DELIVERY ADDRESS NO FEE for changing the delivery address BEFORE your order shipped out. $45 for changing the delivery address if the logistics information shows during transport. $80 will be charged if the package has already been successfully delivered to the original address.
4. ORDER TRACKING If you have already registered on reptizoo you can track your order, shipping and processing information in your account or https://reptizoo.store/apps/order-tracking. If you have not registered on our website, you can track them here using tracking number https://reptizoo.store/apps/order-tracking. For more shipping information, please email us at shopify@repti-zoo.com. We will respond to you within 24 hours. .