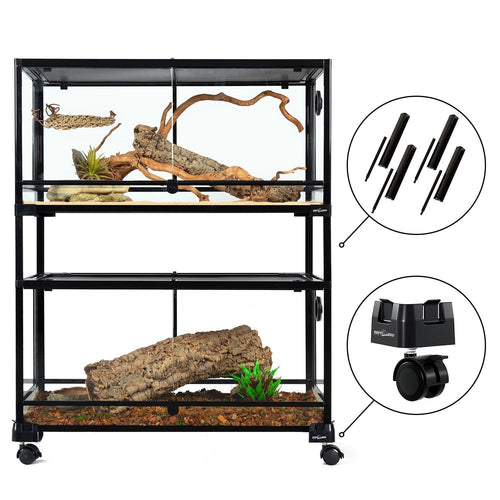 Reptiles are sensitive, cold blooded animals. When in captivity, they need to be placed in spaces that are just like their natural habitats. Displaced from their natural habitats, these reptiles become nervous and display signs of fear and stress. As someone who has a reptile pet, or owns a reptile pet shop, we're sure you must have noticed changes in the body language of your pet - this typically happens whenever they are exposed to conditions that aren't like their natural habitat.
When it comes to keeping reptiles in captivity, it is important to provide them with a secure space where they feel safe and comfortable. And the best, closest to natural space you can offer your reptile pet is the reptile cage. Reptile cages are built considering the needs of the cold-blooded reptiles and are the perfect homes for reptiles in captivity.
Considering space constraints, people prefer investing in stackable reptile cages. These reptile enclosures stackable are durable, lightweight and compact - just what you require when you're looking to accommodate a number of reptiles in your space. And when it comes to investing in a home for your reptiles, it's advisable to invest in stackable reptile cages from a reliable, recognised brand, such as Reptizoo.
Reptizoo has been around for 15 years and has a curated range of accommodation solutions for reptiles. Over time, the brand has come up with unique products, of which the most popular is the stackable reptile cage range. Currently, Reptizoo holds 46 patents - all for its excellent quality of reptile supplies.
The brand strongly believes in the principles of Innovation, Diversification and Premiumisation - and all their products stand true to their motto. We're sure you're eager to know more about the stellar range of products offered by this brand, so let's find out more about the Reptizoo stackable reptile cages:
Which Reptiles Can Be Accomodated in the Stackable Cages?
Reptizoo stackable reptile cages are well suited to accomodate all types of reptiles - snakes, lizards, geckos, bearded dragon, tortoise, snakes, chameleons and a lot more. Reptile tanks from Reptizoo replicate natural habitat conditions for your reptile pets, making them the perfect home for them.
Why Choose Reptizoo Stackable Cages?
Reptizoo takes into consideration even the minutest needs of reptiles - the enclosures from this brand aren't just secured cages. They are equipped with other essential features to ensure your pet feels at home, even when in captivity. Some of the key equipment installed in the Reptizoo stackable reptile cages are reptile fogger, humidifier, UVB light, timers, lighting fixtures, monitoring equipment and a lot more.
All of these features make Reptizoo cages a comfortable and cool space for reptiles to live and rest in.
The Reptizoo cages feature tempered glass doors and feature the durability of plastic. Every repite enclosure is equipped with wheels, making it easy to move around the cages as and when required. These cages are super easy to assemble - you'd require barely any time to set up your pet's home!
Most importantly, the Reptizoo pet enclosures are stackable, and you can comfortably stack them atop each other. You wouldn't need to invest in additional racking equipment, which is usually expensive. Thanks to the reptile enclosures stackable, your space will look a lot tidy, systematic and clean.
Different Models of Reptizoo Stackable Cages
This Reptizoo   includes three pieces of the RK0107 terrariums. To make the stacking easier, you are also provided with two sets of stcaker posts. When completely stacked, the cage extends to the height of 69.6".
*Details of the RK0107 Terrariums
Made of tempered glass, every terrarium has a length of 24". It has a height and depth of 18" and is spacious enough to accommodate small or medium sized reptiles. The volume of the RK0107 model is 34 gallons, and its weight is just 30.5 pounds.
●
Reptizoo RK0119STT
This model is slightly larger as compared to the RK0107STT - so if you're looking to accommodate slightly larger sized reptiles, you can choose this reptile enclosure stackable from Reptizoo. Just like the previous model, this cage too, is stackable and is equipped with two sets of stcaker posts to help make the stacking easier.
The  RK0119 are terrariums featured in this model. When stacked, the total height of the reptile enclosure stackable extends to 69.6 inches.
*Details of the RK0119 Terrariums
The RK0199 terrariums are made of glass and are slightly longer than the RK0107 terrariums. Measuring 36" long, the depth and height of these terrariums is the same (18") as the RK0107. Volume of this terrarium is 50 gallons and its weight is 52.8 pounds only.
●
Reptizoo RK0222STT
Just like the previous models, this stackable reptile cage too, includes three terrariums and two sets of stcaker posts. Super easy to set up, the Reptizoo RK0222STT features the RK0222* terrariums. When stacked together, the total height of this reptile cage measures 69.6".
*Details of the RK0222 Terrariums
Each of these terrariums are 48" inches long, making them the largest of the three mentioned stackable enclosures. Made of glass, the height and depth of the terrariums is the same as the models mentioned before- 18". Total volume and weight of the terrariums stands at 67.3 gallons and 61.73 pounds respectively.
These are the standard tank model combinations available at Reptizoo. However, if you are interested in a different model combination, Reptizoo gives you the flexibility to customize reptile cages according to your requirements. You can choose any three tanks of the same size from the RK series of terrariums and pick suitable sized stacker posts. With these two essential equipment in hand, stacking the reptile enclosures will be a complete breeze!
Summing Up
Why fret about lack of space, when you can comfortbaly accomodate all your reptile pets in safe, cozy and stackable Reptizoo enclosures? You can keep as many reptile pets as you wish to, even in a compact space, thanks to Reptizoo's unique, systematic and organized reptile cages.